British Hospital
The British Hospital of Buenos Aires is an entity of public good nonprofit that since 1844 is dedicated to health care of people.
Besides his activity as a health center in highly complex open to the entire community in its broadest sense, has a strong teaching and academic guidance.
It is the University Hospital of the Catholic University of Argentina and Hospital Teaching Unit, University of Buenos Aires. It also houses the School of Nursing nation's oldest, founded in 1890, where it forms free of charge to nurses who every year are inserted in the health system.
Services
The hospital's main building is 30,000 m2. It has a complete infrastructure and modern technology for the treatment of complex diseases and medical emergencies.
Emergency Guard 24 hours
Short Stay Unit
Outpatient Area
Department of Diagnostic Imaging
Surgical Area
Area Inpatient Surgical Clinic (adults and children)
Liver Transplant Unit
Intensive Care Units (adult and children) and Coronary Care Unit
Obstetrics and Neonatology
Heart Institute
Center for Women
Center for Reconstructive Microsurgery
Hematology – Unit of Bone Marrow Transplantation
Clinical Laboratory
Dialysis Unit
Nuclear Medicine
Pathology
Pharmacy
Medical Center Vincente Lopez – Avenida Maipu 1444 (Vincente Lopez)
Barrio Norte Medical Center – Marcelo T. Alvear 1573 (CABA)
Medical Center Lomas de Zamora – Pereyra Lucena 580 (Lomas de Zamora)
Medical Center Lanus – Ministro Brin 3066 (Lanus)
Contact
Director of Institutional Relations
Lic. Sebastián Dates
E-mail: sdates@hbritanico.com.ar
Medical Coordinator of International Relations
Dr. John D.C. Emery
E-mail: jemery@hbritanico.com.ar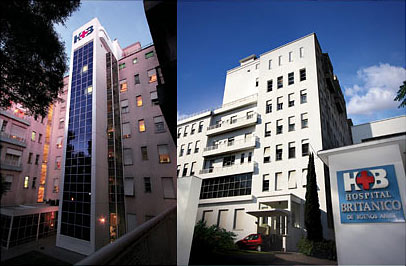 British Hospital
Buenos Aires British Hospital
Buenos Aires, Argentina
Info
Perdriel 74
Buenos Aires
Argentina
(+54 11) 4309-6400
rrii@hbritanico.com.ar